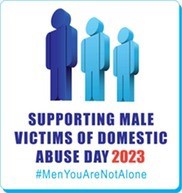 Shropshire Council are working in partnership with others across the UK to promote the domestic abuse services which can provide support to male victims of domestic abuse on Thursday 2 November to encourage more men to get in contact – and to encourage others to encourage them too. 
This is part of Supporting Male Victims of Domestic Abuse Day 2023, which is a collective and co-ordinated campaign by similar organisations across the UK. 
The campaign - which has the slogan #MenYouAreNotAlone - has been created and organised by the ManKind Initiative charity. 
If you are a male victim of domestic abuse in Shropshire, you can access support.  Don't suffer alone or in silence.
Asking for help is never easy. However, if you think you might be in an abusive relationship, contacting your local support service can be an important first step. Domestic abuse support services are trained to help you explore your options and help to guide you to make safe decisions that are right for you. 
You can access support using the contacts and links below: 
Shropshire Domestic Abuse Service on 0300 303 1191 (Monday to Friday: 9am – 5pm) 
West Mercia Women's Aid Male Domestic Abuse Helpline 0800 014 9082 (available 24 hours a day). 
Mankind Initiative National Helpline 01823 334244  (Weekdays: 10am – 4pm) 
Men standing up  0300 303 0167 (Monday – Friday: 9am – 4.30pm) 
Respect Men's Advice Line - 0808 801 0327 (Monday – Friday: 9am – 8pm; Saturday and Sunday: 10am – 12pm and 4pm – 6pm) 
PEGS (Parental Education Growth Support) –designed to help parents, carers and guardians experiencing Child to Parent Abuse: email hello@pegsupport.com 
 As a council, we recognise domestic abuse affects all communities regardless of gender, age, race, religion, sexuality, disability, mental health, social and financial status. Please see our domestic abuse directory which contains resources for all, as well as local and national organisations specialising in domestic abuse. 
In an emergency: Please remember, if you or someone else is in immediate danger please call 999 and ask for the police. Press 55 if you can't talk.  
If you are worried about someone monitoring you on the Internet, click here to find out how to hide your browser history